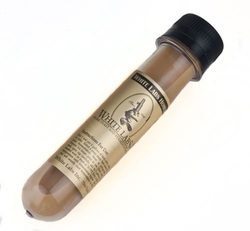 The dead bee put a curse on me.
Abeille Morte Saison
has turned into the biggest brew challenge in recent memory. Fermentation stalled! Of this particular strain of Belgian yeast
Wyeast
says, "notorious for a rapid and vigorous start to fermentation, only to stick around 1.035 S.G."
Guess where we got stuck - 1.035. Well then, pitch another pack. Nothing.
Heat it up - this farmhouse yeast claims to handle 95 degrees F. Nothing.
Cheers to David Wonder at More Beer for prescribing the fix.
White Labs WLP099
"super high gravity yeast." This stuff truly is super. Final gravity was 1.001. Jeez, thanks for the 9.2% ABV beer. Bone dry - crisp and tasty with only a hint of Citra dry hop. Definitively the most interesting thing happening this January.